Description
CAREFREE TOP MOUNT 26″ SAND FILTER
Carefree Top-Mount Sand Filters are designed for extra sand holding capacity. Made of corrosion proof polymeric thermoplastic. The Carefree Sand Filter offers the ideal combination of high performance and excellent water clarity. This filter is an excellent choice for above ground or in-ground pools.
POLYMERIC THERMOPLASTIC TANK WITH MULTIPORT VALVE, CLAMP STYLE
Our process creates a one-piece,  polymeric thermoplastic tank with superior strength and durability.  Carefree  Top Mount Filters are equipped with a six-position, top-mounted multiport valve.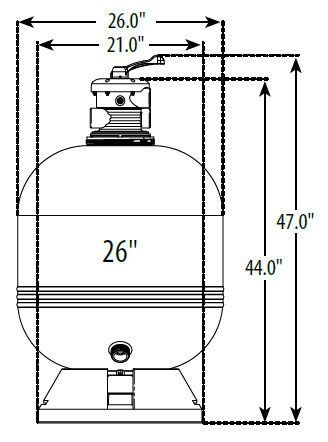 The Carefree filter's time-proven internal design ensures water is exposed to a maximum surface area of sand for optimal filtration performance and more efficient backwashing.
Meanwhile, the flow system design also ensures maximum run times between backwashing to save you time.
The Carefree filter tank is constructed from polymeric thermoplastic reinforced material to deliver unmatched strength and durability for years of service.
Features:
Large filter with extra sand-holding capacity
Durable roto-molded oval tank body distributes pressure evenly, resulting in greater strength and longer life of the filter.
One-piece corrosion proof body
High Flow internal diffuser for even water distribution
7- function Top-Mount Nulti=Port Valve with Split-Nut lock Union
1.5 inch drain port
Mounting base included
33,600 GALLON 8 HOUR TURNOVER FOR MIN RUN CYCLE FOR YOUR POOL
Model Number
2022 Item Description
Size
PRICE

CALL 1-888-GET-POOL TO ORDER