Description
CRYSTAL WATER DE FILTRATION
DE (diatomaceous earth) filtration should be at the top of the list when considering swimming pool and spa filtration. For the clearest, most inviting water, choose the Crystal Water DE Filter.
The curved vertical grids and 2.5 inch internal piping maximizes the flow and efficiency and lengthens the time between cleaning cycles.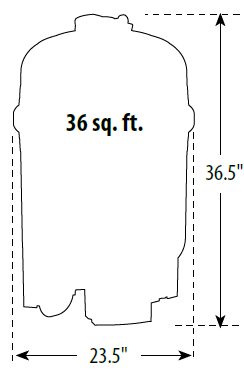 FEATURES:
2.5 Inch Internal Plumbing (Largest in the Industry).
Curved vertical grids give maximum filter surface area for more dirt capture and extends time between cleaning cycles.
State-of-the-Art-internal Design provides greater and more efficient filtration.
Easy-out Filter grid pack makes serving easy.
Chemical resistant fiberglass reinforced polypropylene tank for exceptional strength and long life.
Multi-Handle lid design makes removing the lid easier and safer.
Heavy-duty Tamper-proof clamp.
MULTI-PORT CONTROL VALVE INCLUDED WITH FILTER
This valve will redirect the flow of water from the swimming pool pump for (FILTER) setting to run the filter for cleaning your pool (WASTE ) for discharging water from vacuuming bypassing the filter (CLOSED) a setting to help blow out the lines for winterizing
(BACKWASHING) for cleaning out your pool filter (RECIRCULATE) for funning you filter but bypassing the tank if its dirty and you want to run your pool heater, chlorinator, etc (RINSE) helps after backwashing to settle your media and prevent blow back in your pool (WINTER) Setting for closing down your system for winterizing your pool filter.
CRYSTAL CLEAR pool filters are designed with curved grids that maximize the filter area. When you have more filter area you will have better performance and longer periods between cleanings. The internal design has been refined and now cuts the flow rate witch in turns cuts down on the power you need to run the system.
Model Number
Item Description
Pump Size
2023 SALE PRICE
1-570-0036-A7 & WVD001
36 Sq Ft Pressurized DE Filter Tank & Valve
No Pump
$ 899.99
1-WVD001
Multi Port Valve & Union
No Pump
$ 299.99
1-570-0036-A7-1WVD0001-AC-IMP-1500
D.E. FIlter with valve &
1.5 HP Pump
1-570-0036 FILTER
1-WVD001 VALVE
1.0 HP AC-IMP-1500 Pump

$1,299.99
1-570-0036-A7-1WVD0001-BT-IGV150
D.E. FIlter with valve &
1.5 HP VARIABLE SPEED PUMP
1-570-0036 FILTER
1-WVD001 VALVE
1.5 HP VARIABLE SPEED PUMP
$1.699.99
1-570-0036-A7-1WVD0001-BT-IGV200
D.E. FIlter with valve &
2.0 HP VARIABLE SPEED PUMP
1-570-0036 FILTER
1-WVD001 VALVE
2.0 HP VARIABLE SPEED PUMP
$1,799.99
CALL 1-888-GET-POOL TO ORDER